Rain to start in Chennai and other places in December 1st week
Rain to start in Chennai and other places in December 1st week
North Tamil Nadu continues to shiver, where Chennai and many other places in Tamil Nadu get rains around 1st week of December.
At this period it's said that this year the update has been on cold nights. North interior Tamil Nadu specially the Krishnagiri, Vellore and Dharmapuri districts and also in some places at Salem, Tiruvallur, Tiruvannamalai, Theni etc.
How long the cold nights to continue?
Its expected to continue till 30th November 2016. Once rain comes, night temperature is said to rise as radiation atmosphere to get trapped leading to warm nights.
Will rain at monsoon?
Some people tell that cold nights and dew are seen and so monsoon is over and there will be any further rains. One of the key blogger experts Selvan stated that active phase of MJO is surpressed by -ve IOD conditions. Its felt something is not right and the models struggle in picking up rains. It shows rains and next day its removing it.  There is good consensus that December is said to be good for Tamil nadu.
Lets say 2011, we had Thane Cyclone around December 30, 2011 and in 2013, monsoon spilled over January and had a deep Depression hitting towards Tamil Nadu around January 5,2014. So this year too an extended monsoon can be expected.
When is the next rains for Chennai and Tamil Nadu
November 27/28th rains stands cancelled. Next rain is said to be around December 1st week. October and November is said to together to end as one of the lowest in last 200 years at Chennai. Monsoon is not over. Its not loss of October and November put together, but there will be something to cheer for sure.
Till then enjoy the cold nights.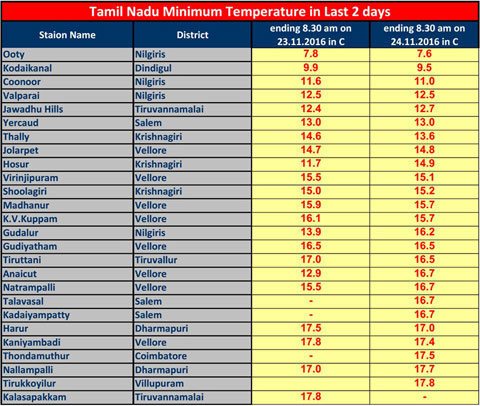 Courtesy – Tamil Nadu Weatherman