Jayalalithaas funeral to be held at 4.30 pm in Marina Beach
Jayalalithaas funeral to be held at 4.30 pm in Marina Beach
All Tasmac shops and bars is not functioning throughout Tamil Nadu is said to remain closed for three days(December 6-8) in respect of late CM J Jayalalithaa.

IAF plane carrying President Pranab Mukherjee to Chennai returns to Delhi after developing technical mid-air

Jayalalithaa`s death certificate.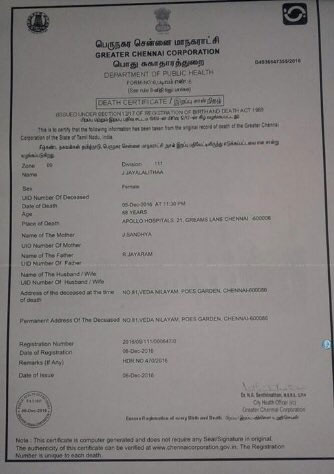 Superstar Rajinikanth with family to pay homage to Jayalalithaa at Rajaji Hall.

Tamil Nadu film industry announced to cancel shootings for today. Theaters shows are also been cancelled.

Suburban trains are said to be operated at Chennai city with lower passenger rush.

Public transport services such as autos, were off the roads with some private vehicles are seen playing in the city

Superstar Rajinikanth tweeted stating that  CM Jayalalithaa`s loss is of a brave daughter`s to the entire country 

KSRTC buses to Tamil Nadu is not said to operate today.

DMDK leader Vijayakant pays last respects to late CM Jayalalithaa

.

It been announced that mortal remains of former Tamil Nadu Chief Minister and AIDMK General Secretary J Jayalalitha  mortal remains is said to be laid at rest on 4:30 pm near MGR and Annadurai with full government honors.

Many public and private banks in Tamil Nadu closed today.

DMK leader MK Stalin pays his respect to Jayalalithaa

Chennai city is said to be shut down as Tamil Nadu mourns due to the death of J Jayalalithaa.

Delhi chief minister Arvind Kejriwal is said to visit Chennai today to pay last respect to Jayalalithaa.

President Pranab Mukherjee is said to leave for Chennai later today to pay last respect to Jayalalithaa

Uttarakhand, Karnataka and Bihar states declare one-day mourning as mark of respect to Amma.

Kerala & Pondicherry governments has declared holiday for all government offices and educational institutions after the death of Jayalalithaa.

Central government declares one-day mourning after the death of Jayalalithaa

PM Narendra Modi pays last respect to Jayalaithaa at Rajaji hall.

Rahul Gandhi is said to leave for Chennai later today inorder to pay last respect to Jayalalithaa.

Jayalalithaa`s funeral will be held at 4.30 pm at MGR memorial site, Marina Beach.

Union Minister Venkaiah Naidu present at the Rajaji Hall. He said, Jayalalithaa`s death is one of the big loss for the country.  She was an able administrator who had conviction and courage.

Leaders and supporters gathered at Rajaji Hall

O Panneerselvam is now the new Chief Minister of Tamil Nadu.

Tamil Nadu government has announced 3 days holiday for all schools and colleges in the state and 7 days mourning for the demise of Chief Minister J Jayalalithaa.

State Mourning is said to be observed for seven days from December 6 during which period the National Flag on all government buildings is said to be flown at half-mast.  

Jayalalithaa who was said to be undergoing treatment at Apollo Hospitals at Chennai for the last 75 days  has passed away on late Monday after suffering from severe cardiac arrest at the previous night. Her mortal remains were taken away from Apollo Hospitals to her Poes Garden residence with tight security. Supporters of AIADMK  were found wailing and weeping. Jayalalithaa`s body was said to be taken to Rajaji Hall at Chennai in early hours. Many arrangements were made for public to pay last respects to departed soul.

With indescribable grief, we announce the sad demise of our esteemed Honourable Chief Minister of Tamil Nadu, Puratchi Thalaivi Amma.(Apollo Hospitals).